ello and welcome to my little island of this great virtual ocean.
I'm Paolo Moratello, I live in Cerea in the Province of Verona - Italy where I teach Science in the local High School "Leonardo da Vinci".
I've been studying gnomonics for a long time now. Gnomonics is the science that joining different studies like astronomy, mathematics and art together with spirit of observation for the natural phenomena, deals with sun dials and solar clocks.
For the aim to divulge the knowledge of the art of the measurement of the time I devote me, besides, in the leisure time and in collaboration with qualified artistic studies, to the realization of sundials on modern buildings and to the recovery of those still preexisting on villas and rural courts.
When the occasion introduces him I develop consultation for the plan of sundials of various typology on buildings and spaces of public place in collaboration with the competent direction of the jobs.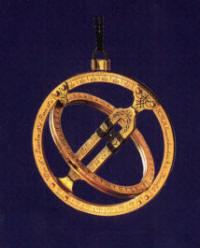 Have a look at the "UNIVERSAL EQUINOCTIAL RING", one of the nicest hand sun watches used in the past centuries.
I can get you this watch rebuilt in every detail and to facilitate you I've translated these pages in your language.
Nice web surfing!